Hallways aren't rooms, and as a result, they are often neglected during home decoration. Still, your hallway has a key unifying role to play in your home's aesthetics. When choosing what color to choose for hallways, it is essential to consider what will happen in your house and the people living in it. With that in mind, here are some suggestions for what colors would best suit your hallways.
Cool and Calming Hallway Colors
Your hallways should blend as seamlessly with the rest of your home as much as possible. However, this does not mean that you have to stick to one color throughout your home. You can opt for cool and relaxing colors to successfully tie the color scheme of your house together.
On the other hand, if the general aesthetic of your home aligns with this, then picking out colors should be no problem at all—cool shades such as grey-blue, grey, marble, and baby blue. Purple and black-blue are also delightfully calming colors.
Warm and Welcoming Hallway Colors
Nothing truly says, "This home is warm and welcoming," like a truly refreshing color splashed across the walls of your home. These colors do not only evoke feelings of warmth and homeliness in whoever steps. They also give you and your visitors a sense of safety and security. Such warm and enveloping colors would include creamy white, tangerine, mustard yellow, and warm tones of green and orange.
Classic and Neutral Hallway Colors
If you do not intend to go all out with colors in your hallways, you can stick to neutral, classic colors and still make it a hit! White, Gray, Mauve, and Brown are great colors that stick to classic neutral tones. Other colors that are classic and neutral include taupe, beige, ivory, and ash. If you intend to go all out and be as bold as possible, one unusual but fabulous color for your hallway is black.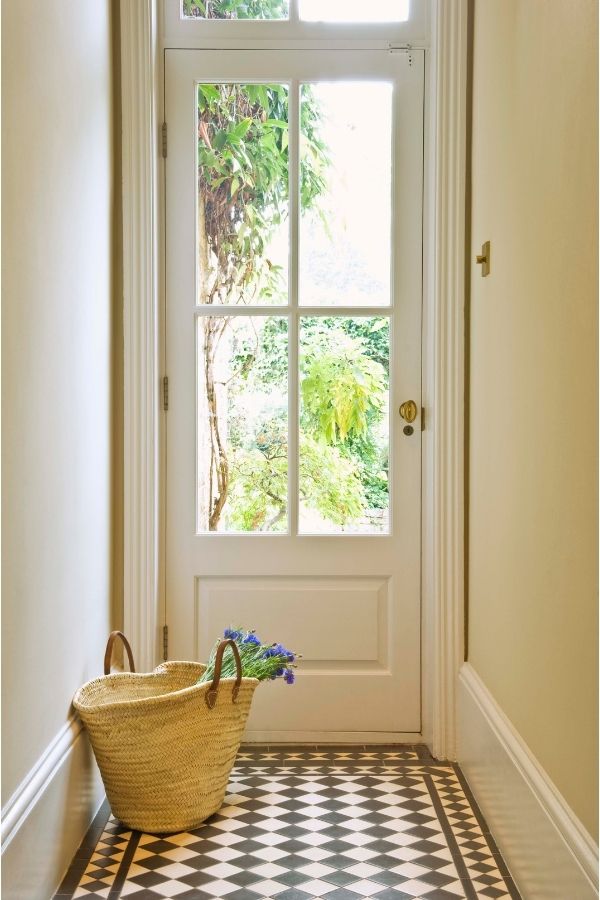 When you opt for neutral tones on the walls of your hallway, you can decide to liven it up with a splash of color on the stairs. Go for any color that you love and paint it on staircase risers. This allows you to draw the eye to the staircase while maintaining balance with the neutral tones on the walls.
Although you might fear that this could end up being a tad bit too boring, you can make it work by optimizing your hallway decorations. This can be done with paintings, plants, mirrors, lamps, and even drawings and photographs.
Vibrant and Exciting Hallway Colors
You can choose to make your hallways show off your fiery personality with the right colors. The best colors to do just that include none other than a vibrant shade of red, electric blue, pink, lime, electric green, and exciting, vibrant shades of purple. Maroon, Terracotta, forest green, and bright yellow are also an excellent range of colors to make your
Picking the best color for your hallway can prove to be daunting, especially when your taste has your choices conflicted. Sometimes, you do not need to opt for one color, and instead, you could mix and match complementing colors.
Now, before you start painting, watch these helpful hallway painting tips:
A suitable color scheme for your hallway helps bring balance to the aesthetic of your home. There are tons of options to sift through and enjoy. The decision process can be exciting and daunting at the same time, but hey, it's all worth it when you find the perfect color for you!